The Drive Home with Christina Wolford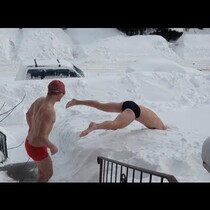 Posted February 28th, 2014 @ 4:39pm
VIDEO OF THE DAY- Snow Swimming!
This winter has been horrible and it's making people do crazy things. Take these two intelligence-impaired Minnesota guys. They thought they were onto something big when they invented the sport of snow swimming.
HomeTown Lenders-
Today, we talked to Jen Conley about refinancing your current home...

More from 94 Country WKKJ